Nothing can hold the participants of The Legally Empowered Community* from acquiring new knowledge. On Monday, 18 May, the first webinar of General Information on Researching Legal Needs took place.
It made possible to the participants to realise the main factors that enable them to proceed. Realise importance of researching legal needs and learn the history of these activities.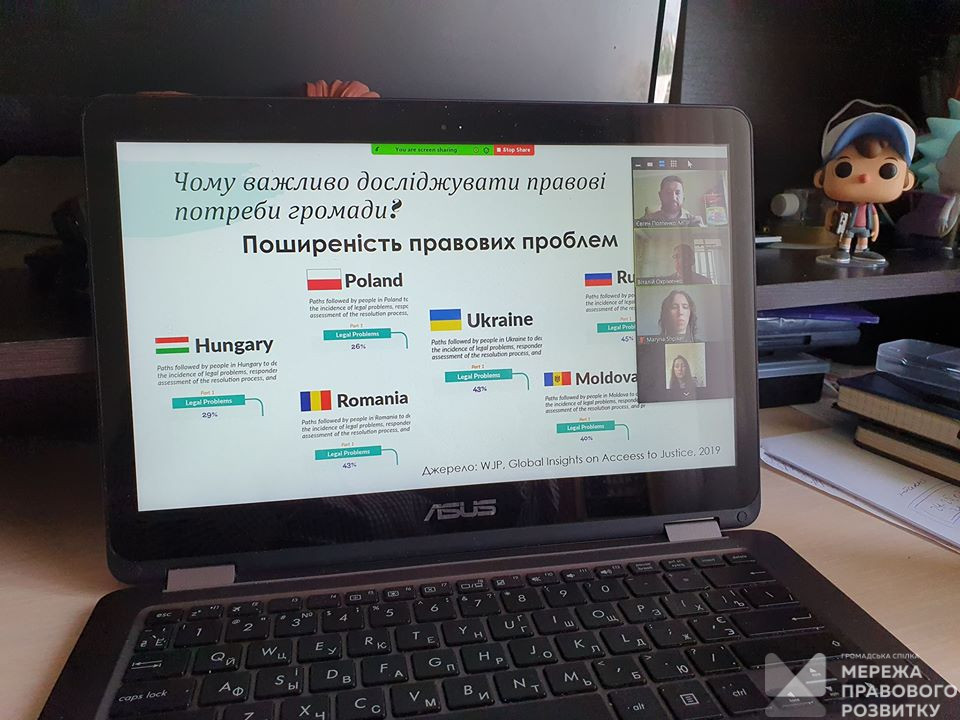 Executive Director of Legal Development Network public union and Coordinator of the Legally Empowered Community program Yevhen Poltenko announced the historical facts:
"The pioneers in researching legal needs were the American scientists Charles Clark and Emma Corstvet in 1938. They conducted a poll among 412 citizens, 61 owners of small- and middle-size businesses and 41 lawyers in the state of Connecticut. The aim was to explore how the community needs were satisfied by attorneys in law services in the course of crisis of the 1930s.

And for recent 25 years, over 55 separate national polls were performed with samples of over 1,000 respondents in more than 30 countries.

This statistics does not include outcomes of the World Justice Project, international non-governmental organization which conducts regular (annual) polls in over 100 countries — the Rule of Law Index.

In Ukraine for the time being we had some large-scale researches of the legal needs of population. Among them those worth taking note are:
– Level of Using Legal Opportunities by Population of Ukraine: Availability and Efficacy of Legal Services, 2010,
– Demand for Justice in Ukraine, 2015,
– What the Ukrainians Know and Think of Human Rights, 2016-2018,
– Legal Needs of Population of Kherson, Severodonetsk, Zhovti Vody, and Sosnivka, 2018.
"Thanks to representative of the Coordination Centre for Legal Aid Provision Vitalii Okhrimenko the participants had deeper understanding of negative effect of the legal problems. It was interesting to find out that the first place in this rating was taken by financial losses (62%), the second by stress (49%), the third by health disorders or injuries (23%).
Participants of the training have found out that according to the research of Legal Needs of Population of Kherson, Severodonetsk, Zhovti Vody, and Sosnivka, 49% of the respondents had at least one legal problem for the last three years. This means that in each community, approximately half of residents face legal problems.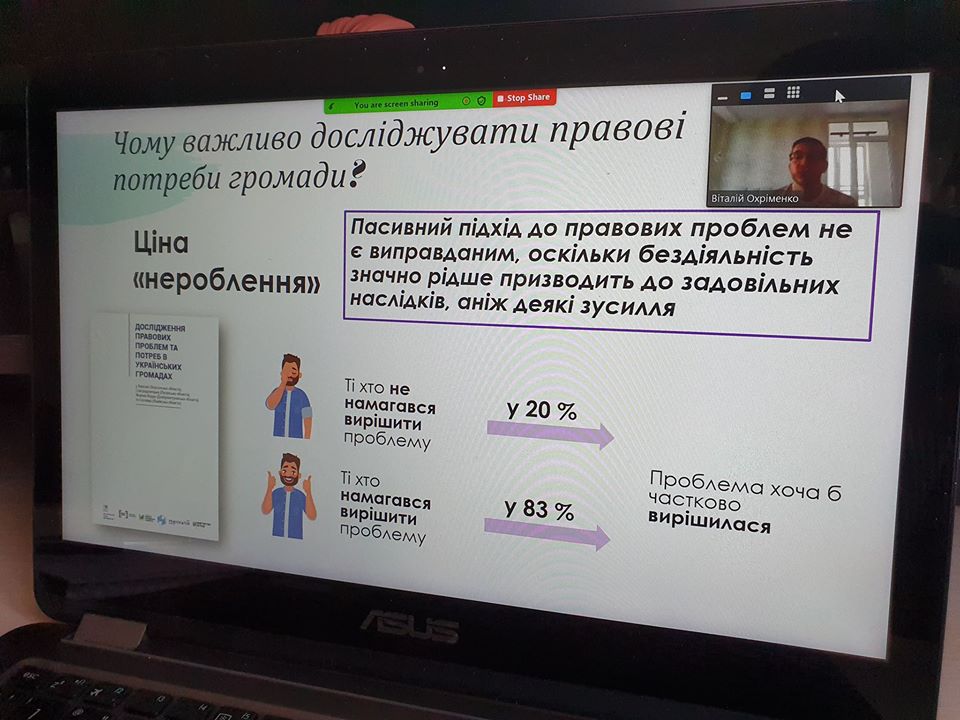 Vitalii Okhrimenko paid attention to this important aspect:
"It is important to take proactive position in this sense since the price of "omission" in terms of legal problems is extremely high. According to the findings of research of Legal Needs of Population of Kherson, Severodonetsk, Zhovti Vody and Sosnivka, among those who failed to seek for solution, the problem was resolved at least partially just in 20% of cases. For comparison: Among those who attempted to find solution, the problem was resolved at least partially in 83% of cases. "
"Thus, passive approach to the legal problems is not justified since omission much rarely than some efforts results in satisfactory consequences."
Kateryna Yeroshenko, Program Expert, representative of the Ukrainian Legal Aid Foundation has slightly raised the curtain over the research structure and conduct for the participants.
They discussed possible methods of data collection, information sources to be used for the primary research of the problem, practical purpose of the research to be specified, etc.
When researching legal needs of communities you can use the following methods:
Document review (review of secondary data): for example, reports and materials of previous or relevant researches, job descriptions, scope of competences, strategic plans, etc. which allows to obtain information in dynamics/prospective (within a series of years).
Opinion polls: Questioning: data collection by means of questionnaires which include a thought over series of questions on certain topic in the form of written answers from respondents.
Individual interviews mean a focused talk of a respondent and an interviewer where a respondent gives answers to the proposed questions.
Group interviews mean a moderated group discussion, discussion of particular topic with a small homogeneous group (10 to 12 persons) of representatives of target audience governed by a moderator.
The main thing you must always keep in your mind is answers to the following questions:
Whether the problem specified by us is relevant for the target group?
What are the sources of your information?
What methods can be used to confirm this information?
And this webinar was closed by the representative of Kyiv International Institute of Sociology Maryna Shpiker. Participants together with the program expert considered the following issues: general logic of scientific research, setting the research problem, components of the research strategy, etc.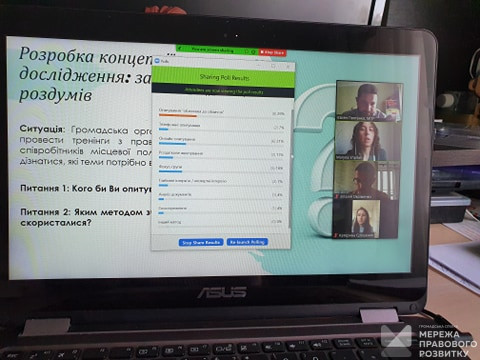 The most interesting issue for the participants was The Useful Practices to Avoid Mistakes.
"What are good practices to develop the concept of research?

1) Simulation of expected result.
For example, we intend to conduct opinion polls in a particular territory and are going to raise the following questions: "Have you ever encountered legal problems?".
In result of research we will obtain information in this form: X% of the territory population encountered legal problems.
– What conclusion can be made on this base?
– Will this information give anything new?
– Will anything be changed in the action plan if X = 10%, 30%, 60%?
– Are further questions arise based on the information: for which period of time this happen, what people understand under legal problems, what kind of problems were there?
2) Incremental research planning: Do not plan the next step until the previous is completed.
If a research consists of a few components, the result of one of them may substantially change the vision of the next one.
3) Collective work with one centre of decision-making.
4) Personal tesitng.
If appropriate, you should conduct a pilot phase of research to assess how proper the tools have been developed, how easy the target group is to reach, whether a difficulty with attainability or arrangement of works exists."
The project participants were inspired with new knowledge and expected for continuation.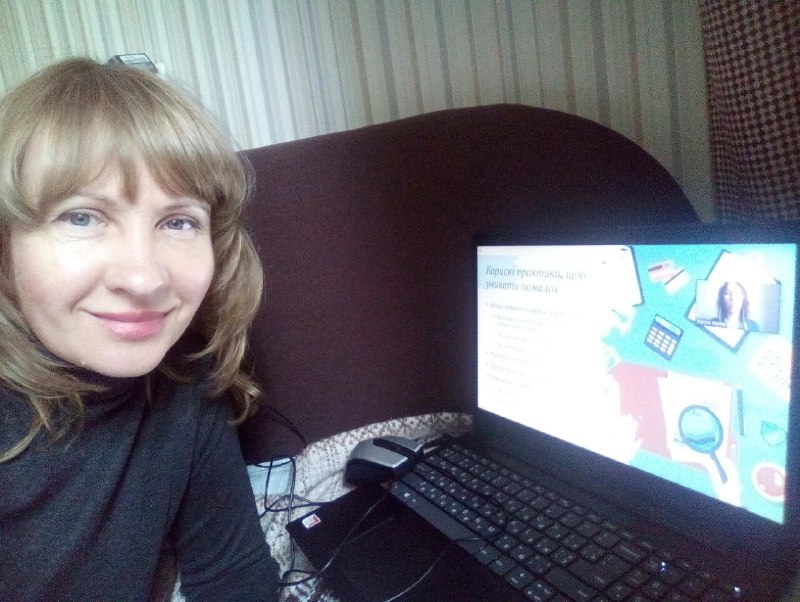 "It was a perfect beginning of the working week in a remote but friendly company of adherents, clinical students! We learn to research properly for legal problems of Uzyn ATC. We have launched the first webinar of Introduction to research of Legal Problems: expertise on the international and national experience of research in access to civil justice, why it is essential to study legal demands of the community and what effect unresolved legal problems have on all spheres of life of the Ukrainian. I liked about the price of "omission" and how to schedule the research from scratch to be able to further influence the outcome — research for the sake of positive changes! We are grateful to the experts and look forward to continuation", program participant Olga Nastina posted in her Facebook profile.
* Legally Empowered Community training practical program (hereinafter, the Program) provides a unique opportunity for the Ukrainian communities to schedule, prepare and conduct research of the residents' legal needs.
The program has been implemented by the Ukrainian School of Practical Knowledge on Access to Justice since 2019 and direct administration of the PRAVOKATOR Legal Clubs network backed by the partner organizations and institutions as follows: International Renaissance Foundation, Ukrainian Legal Aid Foundation, and Coordination Centre for Legal Aid Provision. See more details: https://bit.ly/2u5F03X